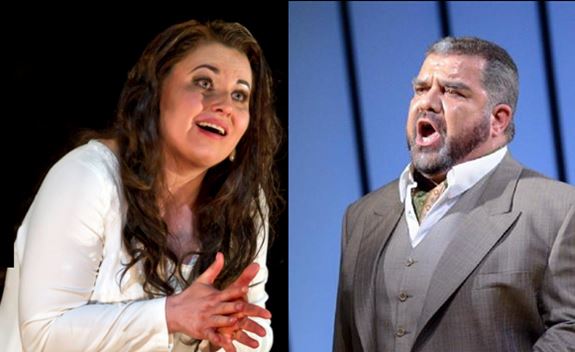 Opera Gala with Liudmyla Monastyrska and Dimitris Platanias
Production by Megaron - The Athens Concert Hall
A gala in celebration of Verdi and Verismo! Liudmyla Monastyrska has 'deep knowledge of Verdi's artistic development,' and has a formidable spinto voice, with an incredibly rich timbre, according to international press. A favourite Rigoletto on the international stage, Dimitris Platanias performs equally often Macbeth, Nabucco, and Tonio in major opera houses. A joint appearance by them in a rich and varied programme promises an unforgettable opera experience.
Sat., 1 Dec. 2018 20:30
Megaron – The Athens Concert Hall
Christos Lambrakis Hall
GIUSEPPE VERDI
(1813-1901)
Sicilian Vespers, overture
Don Carlos' recitative and aria 'Grand Dio! Oh, de' verd'anni miei' from Ernani
Lady Macbeth's cavatina 'Vieni, t'affretta' from Macbeth
Count Stankar's aria 'Lina, pensai che un angelo' from Stiffelio
Nabucco and Abigaille's duet 'Donna chi sei' from Nabucco
PIETRO MASCAGNI
(1863–1945)
L'amico Fritz, orchestral interlude
GIACOMO PUCCINI
(1858-1924)
Tosca's aria 'Vissi d'arte', from Tosca
RUGGERO LEONCAVALLO
(1857–1919)
Pagliacci, Prologue: Si puo? Si puo?
GIACOMO PUCCINI
(1858-1924)
Orchestral interlude and Manon's aria 'Sola, perduta, abbandonata' from Manon Lescaut
PIETRO MASCAGNI
(1863–1945)
Santuzza and Alfio's duet 'Oh, il signor vi manda compare Alfio', from Cavalleria Rusticana
SOLOIST
Liudmyla Monastyrska, soprano
Dimitris Platanias, baritone
CONDUCTOR
Miltos Logiadis
TICKETS INFORMATION
Ticket price: 60€, 52€, 42€, 34€, 26€, 16€ and 11€ (concessions)
Advance ticket sale: 02/11/2018