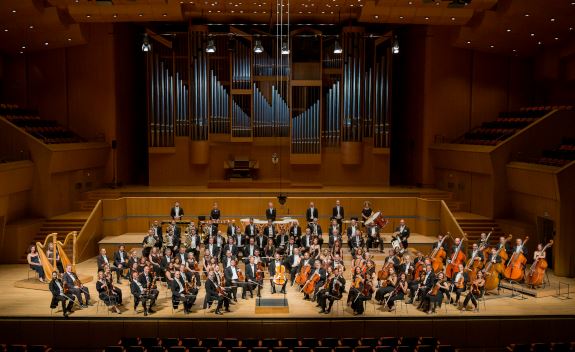 Brief History
The Athens State Orchestra is the oldest orchestral ensemble in Greece. Founded in the late 19th century as the Athens Conservatory Symphony Orchestra, it went through various names as well as forms of operation. Its first concert as the Athens State Orchestra was held on February 28th, 1943.

Ever since its foundation, the Athens State Orchestra has been offering to the Greek audience the opportunity to get acquainted with the masterpieces of the world's repertoire, while it's the main interpreter of the local music. It has achieved a consistent presence on the Greek cultural scene, performing more than fifty concerts per year. Besides Athens, the Athens State Orchestra regularly appears in many Greek cities, as well as in prestigious venues and festivals abroad. Its social and educational program throughout Greece is quite significant.

Over its long history, the Athens State Orchestra has performed under the direction of eminent conductors such as Richard Strauss, Felix Weingartner, Hans Knappertsbusch, Bruno Walter, Dimitri Mitropoulos, Eugen Jochum, Igor Markevitch, Lorin Maazel, Clemens Krauss, Yuri Temirkanov, Michel Plasson, Vladimir Ashkenazy and Vladimir Fedoseyef and has accompanied outstanding soloists, among whom Arthur Rubenstein, Wilhelm Kempff, Alfred Cortot, Fritz Kreisler, Jacques Thibaud, Pablo Casals, Vadim Repin, Gidon Kremer, Mstislav Rostropovich, Alfred Brendel, Daniel Barenboim, Martha Argerich, Elisabeth Leonskaya and Leonidas Kavakos.

Former Artistic Directors of the Orchestra have been Filoktitis Oikonomidis, Theodoros Vavagiannis, Andreas Paridis, Manos Hadjidakis, Giannis Ioannidis, Alexandros Symeonidis, Aris Garoufalis, Byron Fidetzis, Vassilis Christopoulos and Stefanos Tsialis. Since October 2020, Loukas Karytinos is the Artistic Director of the Athens State Orchestra.