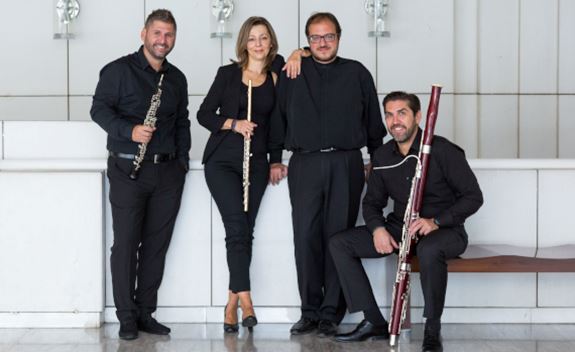 Winds' Dialogues
Three distinguished woodwind principals from the Athens State Orchestra join forces beyond the confines of symphonic music, placing their delicate, lyrical, penetrating sound at the service of a programme distinguished by its lightness of mood, classical (and neoclassical) clarity, and musicality.
Mon., 15 Nov. 2021 20:30
The Benaki Museum - Museum of Greek Culture (Koubari str.)
JOSEPH HAYDN
(1732 – 1809)
London Trio No. 1 in C major
LUDWIG VAN BEETHOVEN
(1770–1827)
Trio for piano, flute and bassoon in G major, WoO 37
FRANCIS POULENC
(1899–1963)
Flute Sonata
Trio for oboe, bassoon and piano
PARTICIPATION
Chrysi Pilaftsi, flute
Giannis Ikonomou, oboe
Alexandros Ikonomou, bassoon
Titos Gouvelis, piano
At 19:30, one hour prior to the concert, a free guided tour will be offered to auditors by Irini Papageorgiou, Curator of the Prehistoric, Ancient Greek and Roman collections Mrs Irini Papageorgiou
TICKETS INFORMATION
To attend the concert, audience must purchase a ticket for the entrance to the Museum.