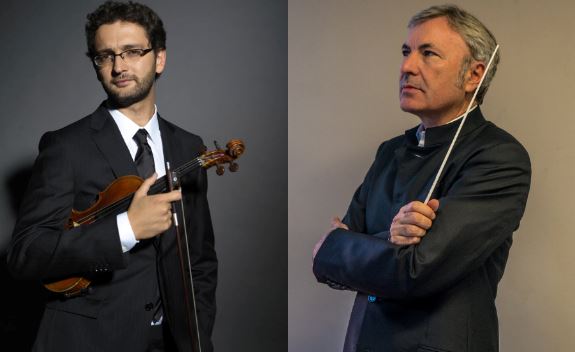 Musical highpoints
Greek Revolution - 700 years from Dante's death - 50 years from Stravinsky's death
A new work commissioned by the Athens State Orchestra from the leading composer Christos Samaras pays tribute to a momentous anniversary for Greece: the bicentenary of the 1821 Revolution. But 2021 is also the fiftieth anniversary of the death of a great 20th-century musical pioneer, Igor Stravinsky. The distinguished violinist, Antonis Sousamoglou, performs his Violin Concerto, proving that Stravinsky's music has lost none of its ability to grab our attention. The concert ends with Tchaikovsky's delightful Francesca da Rimini, conducted by the prolific Italian maestro, Pier Carlo Orizio.
Fri., 5 Nov. 2021 20:30
Megaron – The Athens Concert Hall
Christos Lambrakis Hall
CHRISTOS SAMARAS
(1956 -)
Liberty or Death, an Athens State Orchestra's order for the 200th anniversary of the Greek Revolution
IGOR STRAVINSKY
(1882-1971)
Concerto for violin and orchestra in D
PIOTR ILYICH TCHAIKOVSKY
(1840–1893)
Francesca da Rimini: Symphonic Fantasy after Dante, Op. 32
SOLOIST
Antonis Sousamoglou, violin
CONDUCTOR
Pier Carlo Orizio
19:30, free introductory speech by Haralambos Gogios for ticket holders
Honouring the 700 years after Dante's death, the Italian Cultural Institute of Athens holds a special documentary-trip to three stations, presenting the fructus meeting of Dante's work with the Musical Art. You are invited to follow it by clicking here.