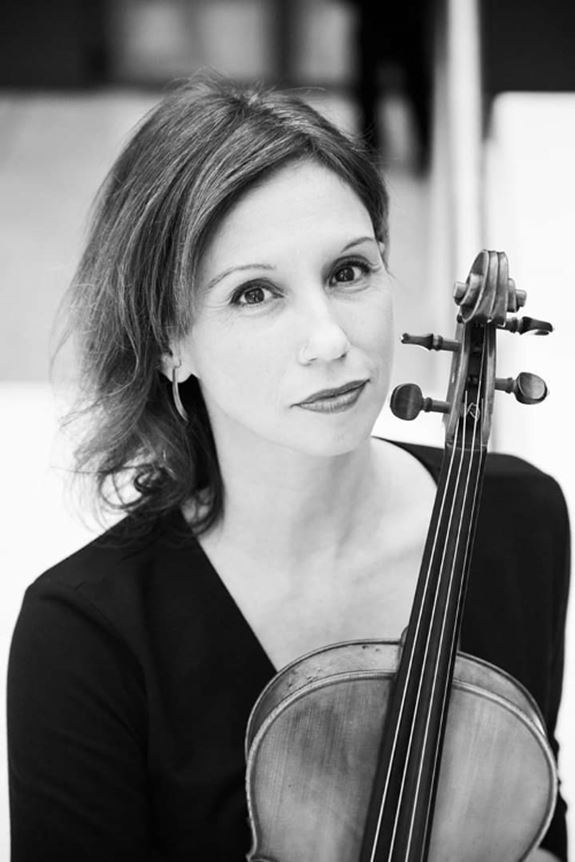 Iris Louka
Iris Louka is member of the family of violas in the Athens State Orchestra. Since 2007 she serves as a permanent member.

She was born in Athens in 1972. She studied violin at the Athens Conservatory with professors Tzoumanis and Apostolidis and earned her diploma in violin in 1995 with honors. She participated in Ig. Oistrakh's masterclass in Krems, Austria.

She studied viola as a scholar of the Onassis Foundation, without having previously earned a diploma in viola, with H. Muller in Vienna Conservatory and later with S. Fuhrlinger in Vienna Academy. She participated in the World Youth Orchestra from 1996 to 1997 under the auspices of the Berlin Philharmonic Orchestra, as principal and soloist in viola in concerts and recordings in great venues in Europe and with eminent conductors and soloists (K. Mazur, Y. Temirkanov, N. Marriner, Μ. Αrgerich, Eu. Kissin, M. Maisky).

She returned to Greece due to serious family reasons and continued her studies in viola at the Athens Conservatory with Ismini Carter; she earned her diploma in 2001 with honors and received the "Michalis Semsis" award.
She collaborates with the National Symphonic Orchestra of the Hellenic Radio and Television (1993-1996), the Athens Camerata Orchestra (1997-2007), the Orchestra of Colours (1995-2003), the Orchestra of the National Opera (2003-2005), the Patras String Orchestra (2005-2006) among others.

In 2007 she graduated from the Department of Music Studies of the National and Kapodistrian University of Athens. In 2012, along with her professional activities, she pursued her postgraduate studies in the Ionian University and in 2014 earned a Master in "Music Interpretation - Viola" with A. Georgotas. In 2015 she began Doctoral Studies at the Ionian University, writing a doctoral dissertation in interpretation about all Johann Sebastian Bach's solo sonatas and suites -interpretation, technics and publication.

She has the dream that one day Music Education will be public and free in Greece!