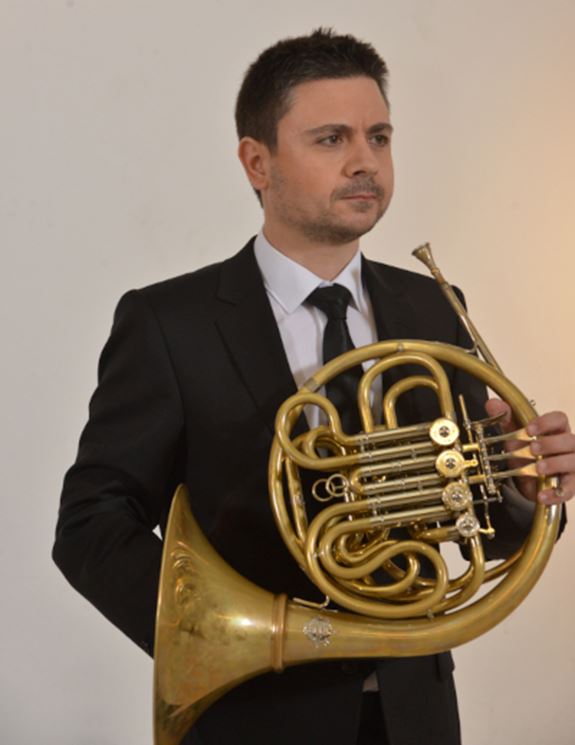 Ioannis Gounaris
Ioannis Gounaris was born in 1981 in Corfu, Greece. He started his studies in theoretical music and French horn at Mantzaros Philharmonic Society with professor Georgios Kourkoulos. He continued his studies at Orpheio Music College of Athens with professor Evangelos Skouras and took his diploma in French Horn with great honors and second prize in 2005. He did his post-graduate studies at University of Music and Perfoming Arts in Graz with professor H.Mc Donald where he graduated in 2009. He attended seminars and French horn courses with professors D.Ohanian, L.Bontrager, H.Halien, H.Mc Donald και J.Slagter.
He made appearances as a soloist at Athens State Orchestra, Athens Symphony Orchestra, Piraeus Philharmonic Orchestra and Mantzaros Philharmonic Society.
We has worked with Greek Radio Symphony Orchestra,  Orchestra of Colours, Athens Camerata, National Opera of Greece, Royal Danish Orchestra and Wiener Symphoniker.
He is a former member of Piraeus Philharmonic Orchestra and Athens Symphony Orchestra. He owns a permanent position  in Athens State Orchestra since 2008.
He is a founding member of Ventus Ensemble since 2005, perfoming concerts and organizing seminars all over Greece. His biggest achievement is the release by Decca Classics of the album "Circular Argument" composed by Alexandros Livitsanos  for the brass quintet in 2016.