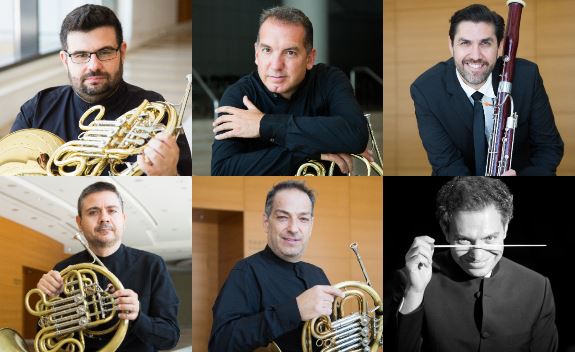 Athens State Orchestra's Soloists: In/Exhaling Music
The concert is broadcast on the Athens State Orchestra's Facebook profile and on YouTube channel.
This autumn, we will be "In/Exhaling Music" with a special focus on the unique sound of the woodwind. The programme starts with Jean Françaix's lively Concerto for bassoon and 11 strings. The concert continues with Mozart's typically inspired Symphony no 34 in C major. The programme comes to a close with Carl Heinrich Hübler's Concert Piece for four horns and orchestra. The solo roles will be performed by five experienced members of the Athens State Orchestra. The concert will be conducted by the distinguished Michalis Economou.
Sat., 4 Sep. 2021 20:30
Megaron – The Athens Concert Hall
Christos Lambrakis Hall
JEAN FRANCAIX
(1912-1997)
Concerto for bassoon and 11 strings
WOLFGANG AMADEUS MOZART
(1756–1791)
Symphony No. 34 in C major, K.338
HEINRICH HUBLER
(1822–1893)
Concert Piece for four horns and orchestra
SOLOIST
Hristos Salvanos, horn
Grigoris Asonitis, horn
Ioannis Gounaris, horn
Spyros Kakos, horn
Alexandros Oikonomou, bassoon
CONDUCTOR
Mihalis Oikonomou