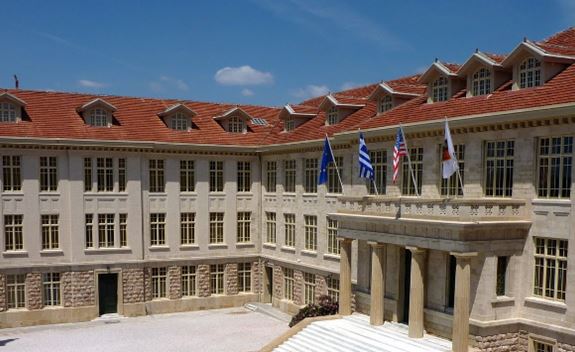 Side by side
Co-production with the Hellenic-American Educational Foundation
Being fully aware that the education of our future audience but also the training of young music students are matters of the highest importance for a historical artistic institution, members of the Athens State Orchestra make the most of each opportunity to stand by young people and to impart their love of making music. Under this perspective, the Orchestra's collaboration with the College Symphony Orchestra, the Hellenic-American Educational Foundation's Orchestra, is for everyone an ideal timing of a first-class opportunity for coexistence among professional musicians and young music students. For the first, the youngsters' freshness and enthusiasm is a welcome source of energy and spirit, while the later learn in action the demands but also the joy of the disciplined musical collaboration within a professional symphonic orchestra.
After the opening of the concert by the Hellenic-American Educational Foundation's Choir who will interpret four popular songs, members of both orchestras will perform "side by side" a rich programme that is covering a wide stylistic spectrum.
Sat., 2 Feb. 2019 19:30
Hellenic-American Educational Foundation
MANOS HADJIDAKIS
(1925-1994)
Kemal (poetry: Nikos Gatsos)
LOREENA MCKENNITT
(b. 1957)
Nefelis's tango (lyrics: Haris Alexiou)
ED SHEERAN
(b. 1991)
Perfect (lyrics: Ed Sheeran)
MICHAEL JACKSON
(1958-2009)
We are the world (lyrics: M. Jackson)
HANS ZIMMER
(b.1957)
Time (from the soundtrack of the film 'Inception')
ANTONIO VIVALDI
(1678–1741)
Concerto for Strings in C major, RV 109
GEORGE FRIDERIC HANDEL
(1685-1759)
Harp Concerto in B-flat major, HWV 294
JEAN SIBELIUS
(1865–1957)
Andante Festivo
KARL JENKINS
(b. 1944)
Palladio (Concerto Grosso) for strings
LUDWIG VAN BEETHOVEN
(1770–1827)
Symphony No. 7 in A major, Op. 92
CONDUCTOR
Dimitris Papagiannakis
Romanos Papazoglou
PARTICIPATION
College Symphony Orchestra
Hellenic-American Educational Foundation's Choir
Eleftheria Vorria – Maria Komisopoulou – Stefanos Tsokakis, music instruction
The Hellenic-American Educational Foundation's Choir interprets songs composed by Manos Hadjidakis, Loreena McKennitt, Ed Sheeran and Michael Jackson.
The College Symphony Orchestra together with the Athens State Orchestra interprets pieces composed by Zimmer, Vivaldi, Handel, Sibelius and Jenkins.
The Athens State Orchestra interprets Beethoven's Symphony no. 7.
TICKETS INFORMATION
General entrance: 15 euros
Advance sale at:
Athens College - Psychico College Theater, 15, Stefanou Delta str, Psychico - tel: 210 6717523
Elpida - Association of Friends of Children with Cancer - tel: 210 7700009