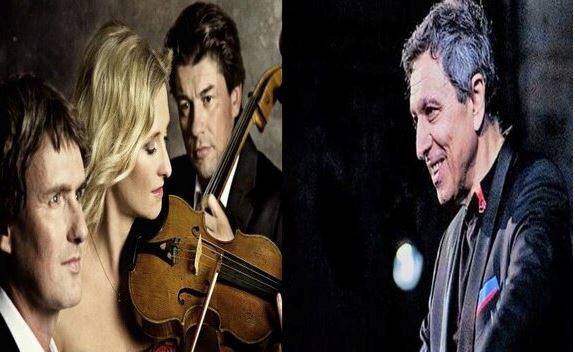 Beethoven 250 years - 100 years from Giorgos Sicilianos's birth
Co-production with the Megaron - the Athens Concert Hall
The distinguished Swiss Piano Trio joins forces with the Athens State Orchestra to perform Beethoven's Triple Concerto, a 'hybrid' work of genius which harmoniously combines the hauteur of solo rhetoric with the warmth of chamber music dialogue. The celebrated conductor Loukas Karytinos brings his respected interpretative abilities to bear on Robert Schumann's fiery and passionate Fourth Symphony, as well as to the imaginary miniatures of Greek modernism's leading exponent, Giorgos Sicilianos.
Fri., 18 Dec. 2020 20:30
Megaron – The Athens Concert Hall
Christos Lambrakis Hall
GIORGOS SICILIANOS
(1920-2005)
Eight children's minatures for orchestra, op. 23a
LUDWIG VAN BEETHOVEN
(1770–1827)
Concerto for violin, cello, and piano in C major, Op. 56, "Triple Concerto"
ROBERT SCHUMANN
(1810–1856)
Symphony No. 4 in D minor, Op.120
CONDUCTOR
Loukas Karytinos
PARTICIPATION
Swiss Piano Trio
Angela Golubeva, violin
Joël Marosi, cello
Martin Lucas Staub, piano
At 20:30, at the beginning of the event, an introductory speech will be given by Haralambos Gogios in Christos Lambrakis hall.
TICKETS INFORMATION
Ticket price: 40€, 34€, 29€, 24€, 17€, 11€ and 8€ (concessions)
Tickets are issued exclusively online or by phone at 210 7282333 and are controlled exclusively electronically and with no physical contact.
BUY ONLINE