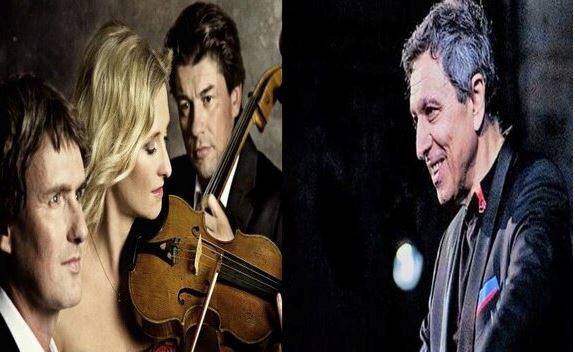 Beethoven 250 years - 100 years from Giorgos Sicilianos's birth
Broadcast concert at:
https://bit.ly/AthensStateOrchestraYouTube 
https://www.megaron.gr/season/onlineel/   
https://www.facebook.com/athensstateorchestra/

Co-production with the Megaron - the Athens Concert Hall
The distinguished Swiss Piano Trio joins forces with the Athens State Orchestra to perform Beethoven's Triple Concerto, a 'hybrid' work of genius which harmoniously combines the hauteur of solo rhetoric with the warmth of chamber music dialogue. The celebrated conductor Loukas Karytinos brings his respected interpretative abilities to bear on the imaginary miniatures of Greek modernism's leading exponent, Giorgos Sicilianos.
Sun., 13 Dec. 2020 20:30
Megaron – The Athens Concert Hall
Christos Lambrakis Hall
GIORGOS SICILIANOS
(1920-2005)
Eight children's minatures for orchestra, op. 23a
LUDWIG VAN BEETHOVEN
(1770–1827)
Concerto for violin, cello, and piano in C major, Op. 56, "Triple Concerto"
CONDUCTOR
Lukas Karytinos
PARTICIPATION
Swiss Piano Trio
Angela Golubeva, violin
Joël Marosi, cello
Martin Lucas Staub, piano