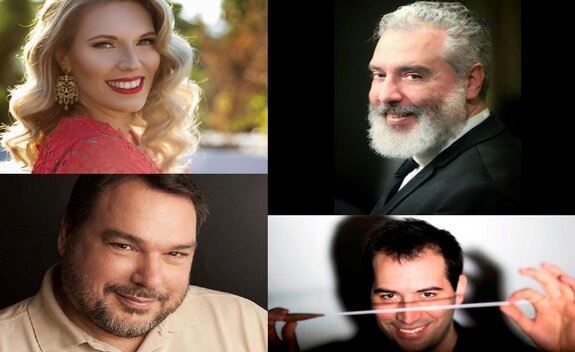 New Year's Opera gala
Co-production with Megaron - the Athens State Orchestra
Music-lovers' enthusiastic response to the opera galas we have staged in recent years to celebrate the upcoming New Year has made them an integral part of Athens' festive season. Under the baton of the talented Kornilios Michailidis, distinguished opera singers Christina Poulitsi, Tasis Hristogiannopoulos and Hristoforos Staboglis demonstrate their exceptional vocal talents in popular arias and duets from the magic world of Italian opera.
Wed., 30 Dec. 2020 20:30
Megaron – The Athens Concert Hall
Christos Lambrakis Hall
GIUSEPPE VERDI
(1813-1901)
"La Forza del Destino", The Power of Fate, overture
CHARLES GOUNOD
(1818-1893)
"Je veux vivre" (Juliet's Waltz), Juliet's aria from "Romeo and Juliet"
PAVLOS CARRER
(1826–1896)
"April appeared", aria and cabaletta from the opera "I Kyra Frossyni"
GIUSEPPE VERDI
(1813-1901)
"O patria.. o tu Palermo", from the opera "I Vespri Siciliani"
VINCENZO BELLINI
(1801—1835)
"Qui la voce… Vien, diletto", from the opera "I Puritani"
"Il rival… Suoni la tromba", from the opera "I Puritani"
LEONARD BERNSTEIN
(1918-1990)
Overture from the operetta "Candide"
"Glitter and be gay", from the operetta "Candide"
GEORGES BIZET
1838–1875
"Galop (le bal)", from the suite "Jeux d'enfants"
AMBROISE TOMAS
(1811-1896)
"Doute de la lumière," Hamlet and Ophelia duet from the opera "Hamlet"
MANUEL DE FALLA
(1876–1946)
"Spanish Dance", from the opera "La Vida breve"
GAETANO DONIZETTI
(1797–1848)
"Quanto amore ed io spietata" from the opera "L'Elisir d'Amore"
"Cheti, cheti immantinente", from the opera "Don Pasquale"
SOLOIST
Christina Poulitsi, soprano
Tassis Christogiannopoulos, baritone
Christoforos Stamboglis, Zaccaria
CONDUCTOR
Kornilios Michailidis
TICKETS INFORMATION
Ticket price: 60€, 52€, 42€, 34€, 26€, 16€ and 11€ (concessions)
Tickets are issued exclusively online or by phone at 210 7282333 and are controlled exclusively electronically and with no physical contact.