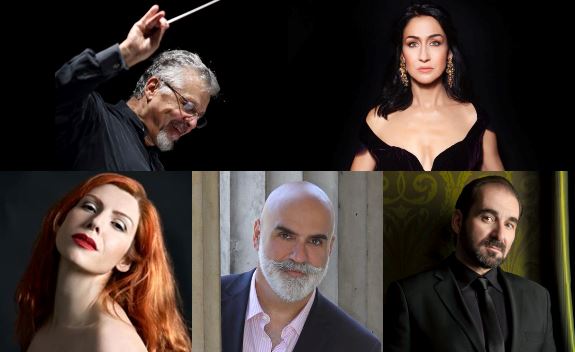 New Year Gala with the Athens State Orchestra
Co-production with Megaron - the Athens Concert Hall Organization
Faithful to its time-honoured festive rendezvous with its audience, the Athens State Orchestra welcomes in 2022 with beloved melodies from the opera and operetta repertoire, accompanying celebrated opera performers under the experienced baton of Byron Fidetzis. With a focus on Romanticism, from the Overture from Weber's The Marksman (an opera that premièred in 1821) to Gershwin's Porgy and Bess, which flirts heavily with jazz, this year's gala concert will be —as always— a wonderful musical prelude to the New Year!
Thu., 30 Dec. 2021 20:30
Megaron – The Athens Concert Hall
Christos Lambrakis Hall
Arias, duetti and orchestral excerpts from operas by Weber, Leoncavallo, Massenet, Bizet, Saint-Saëns, Dvořák, Rossini, Bellini, Suppé, Gershwin, Offenbach, Samaras, Sakellaridis, Kálmán
CARL MARIA VON WEBER
(1786–1826)
Der Freischütz, Op. 77, (The Marksman or The Freeshooter), overture
RUGGERO LEONCAVALLO
(1857–1919)
Pagliacci, Prologue: Si puo? Si puo?
JULES MASSENET
(1842–1912)
"II est doux, iI est bon", from Herodiade
GEORGES BIZET
1838–1875
Nadir and Zurga's duetto from the opera "Les pêcheurs de perles" (The Pearl Fishers)
CAMILLE SAINT SAENS
(1835–1921)
Bacchanale from "Samson and Delilah"
ANTONlN DVORAK
(1841–1904)
Song to the Moon, from the opera "Rusalka"
GIOACCHINO ROSSINI
(1792-1969)
"Asile héréditaire, ... Amis, amis, secondez ma vengeance..." from the opera Guillaume Tell
VINCENZO BELLINI
(1801—1835)
Duetto "Mira, o Norma", Norma and Adalgisa, from the opera "Norma"
FRANZ VON SUPPÉ
(1819-1895)
Dichter and Bauer, overture
GEORGE GERSHWIN
(1898-1937)
"Bess, you is my woman now", duetto from the opera "Porgy and Bess"
JACQUES OFFENBACH
(1819-1880)
"Oui C'est Un Reve", duetto of Helene and Paris from the opera "La belle Hélène"
SPIRIDON SAMARAS
(1861–1917)
Prelude from the opera "Lionella"
THEOPHRASTOS SAKELLARIDIS
(1883-1950)
"Perouzé, you are the Queen", from the opera Perouzé
EMMERICH KALMAN
(1882-1953)
"I want to dance", from the operette "The Csárdás Princess" (The Riviera Girl or The Gipsy Princess)
Quartett, from the operette "The Csárdás Princess" (The Riviera Girl or The Gipsy Princess)
SOLOIST
Myrto Papatanasiu, soprano
Marisia Papalexiou, mezzo soprano
Mario Zeffıri, tenor
Dimitris Tiliakos, baritone
CONDUCTOR
Byron Fidetzis
19:30, free introductory speech for ticket holders