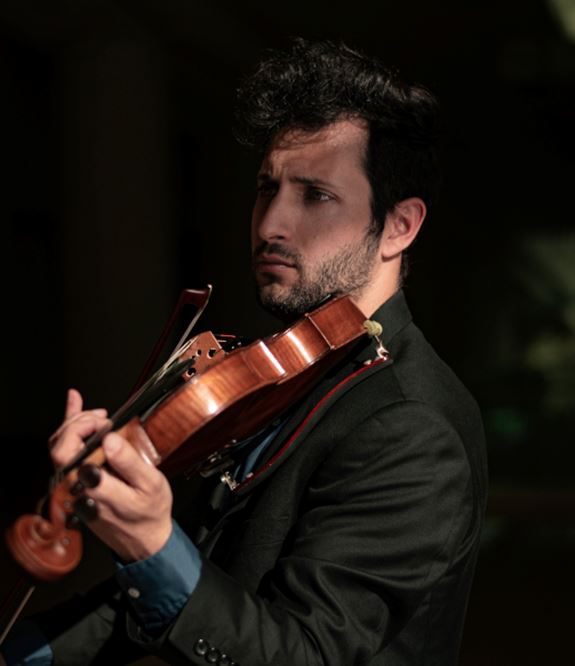 Ilias Ion Livieratos
"Violist Ilias Livieratos is a wonderful musician with a very personal playing that is filled with deepness and heartfelt poetry", said Swedish pianist and professor Staffan Scheja about the principal violist of the Athens State orchestra, when he was honoured with the Swedish Jan Wallander prize for 2022.
He was also awarded the Antonin Dvořák Society Prize at the international Nedbal competition in Prague.
Raised in Preveza, Greece, he studied at the Mozarteum Salzburg (with a scholarship of the Friends of Music Society), Munich, Würzburg and Stockholm with professors such as Christoph Poppen, Klara Flieder-Pantillon, Grigori Zhislin, Midori Seiler (historical interpretation) and Ellen Nisbeth. Along with his music studies, he studied at the Medical School of Athens, a path he decided to abandon for the sake of music.
He worked as principal violinist and violist at the Greek National Opera, the Augsburg Philharmonic and Camerata/Armonia Atenea. He was also a member of the European Youth Orchestra.
As a soloist he has collaborated with the "legend" of baroque music R. Göbel / Vivaldi concerto for 3 violins in Slovenia and G. Petrou / Camerata / 6th Brandenburg at the Athens Concert Hall on period instruments. In 2022 he recorded as a soloist with the A.S.O. Mozart's sinfonia concertante.
In 2022 he started a collaboration with the great violinist Leonidas Kavakos, in April on Brahms Quartets, in a charity concert for the reconstruction of Mariupol's maternity hospital in Ukraine, and in June 2022, playing as a soloist duo in Mozart's Sinfonia Concertante. During this concert, Leonidas Kavakos, speaking to the audience, praised the Greek musician as an "asset for the Greek Classical Music". More concerts of this fruitful collaboration have been appointed for 2023, as well.
He plays on a viola by Giuseppe, Antonio & Giovanni Gagliano of 1800 (sponsored by Handelsbanken Sverige and prize of the Jan Wallander award).