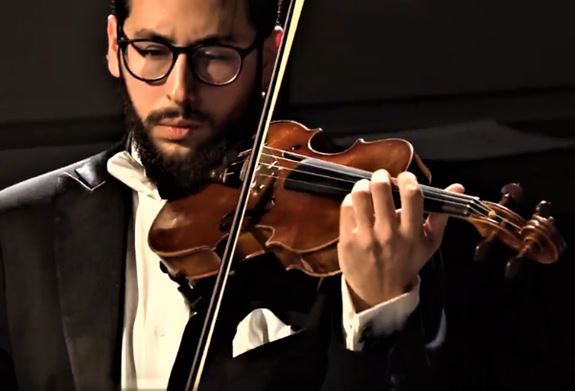 Vasilis Soukas
Vasilis Soukas was born in Athens, Greece in 1993. He started to play the violin at the age of 5. In June 2012 he graduated with a violin diploma with Excellent performance and 1st prize award from the Conservatory of Petroupoli's Municipality in Athens, with Nikos Despotopoulos as a teacher. The two years of practicing under the guidance of Simos Papanas played a significant role for Vasilis and introduced him to the baroque violin playing. In 2016 he completed the Bachelor degree of violin performance programme in ''Sibelius Academy'' University of the Arts Helsinki, in Finland, with Pekka Kauppinen and Minna Kangas (baroque violin).
Vasilis has participated in numerous concerts in Greece and abroad. He has been concertmaster of the Greek-Turkish Youth Orchestra (GTYO) and the Camerata junior of the society ''Friends of Music'' where he also was a teacher assistant in 2017-2019. From 2014 until 2016 he has been a member of Kirkkonummi Chamber Music Orchestra (Finland) and Sinfonieta Lentua (Finland-Russia), having also performed with Helsinki Baroque Orchestra, Jean Sibelius Orchestra and Helsinki Sinfonietta. His professional debut as a soloist took place in October 2016 in Finland, where he performed Paganini's 1st violin concerto with Kirkkonummi Chamber Music Orchestra. Vasilis is a permanent member of Athens State Orchestra since 2017 and a member of the ''Aenaon Quartet''.
He has participated in violin and chamber music masterclasses/workshops with: Leonidas Kavakos, Ilya Gringolts, Yuri Zishlin, Olivier Charlier, Yair Kless, Dimitri Semsis, Simos Papanas,, Christos Kanettis, Sirkka-Liisa Kaakinen, Martti Rautio and Herwig Zack.
Vasilis performs very often contemporary music by Greek composers (N.Skalkottas, T.Antoniou, S.Papanas, etc.) and others (A.Schnittke, K.Penderecki, A. Pärt, G.Bacewicz, etc.).