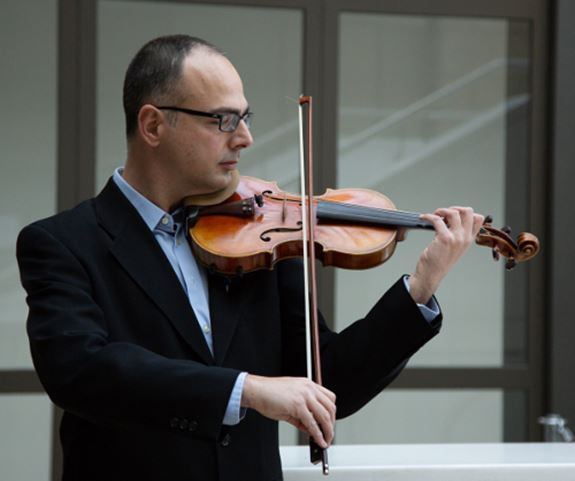 Nikos Mandilas
In 1990, he received his violin diploma with honours, first prize and a medal of distinction at the Hellenic Conservatory, where he studied with the distinguished professor Stelios Kafantaris and continued studies with him until 2000. In 1991, he did postgraduate studies at the Royal Academy of Music in London, with the financial support of the "Mousigetis" foundation. In 1993, he continued his studies, under an IKY (State Scholarships Foundation) scholarship, at the Stuttgart Hochschule für Musik and received the postgraduate diploma in chamber music, in the Melos String Quartet class, the post-graduate violin diploma with honours in 1997 and the soloist diploma (Solisten Klasse) in 1999, in Wilhelm Melcher's class. He participated in violin seminars with Z. Bron and H. Harutyunian, in chamber music seminars with H. Buchberger at the Frankfurt Academy, as well as string quartet seminars held by members of the Amadeus, Alban Berg, Bartholdy and Cleveland String Quartets. He was born in Corfu and he studied violin at the Philharmonic Society and the Conservatory of Corfu.
He has given recitals and chamber music concerts in Greece, England, Germany, Switzerland. He has collaborated as a soloist with various orchestras, including Athens State Orchestra, Thessaloniki State Orchestra, London Royal Academy of Music Symphony Orchestra, Stuttgart Academy Symphony Orchestra, Nafplion Festival Orchestra, York University Orchestra, Corfu Symphony Orchestra, Patmos Festival Orchestra, Orchestra of Corfu Philharmonic Society, Athens Municipal Symphony Orchestra, Orchestra of Music Teachers' Association of East Macedonia-Thraki and others. He was awarded the third prize at the Bubenreuth string quartet International Competition (Germany, 1993) and the first prize at the HELEXPO chamber music competition (Thessaloniki, 1994). He had been member of the European Union Youth Orchestra and the Saint Gallen Symphony Orchestra. He received a viola diploma with "Excellent" and a first prize in 2007 at Phaethon Conservatory in Alexandroupoli. He has recorded music for the Third Programme of the Greek Radio. He is member of the piano-trio Diapason and of the string quintet Quintarco. Since 2003, he is first Principal and Associate Concertmaster in Athens State Orchestra. 
Ηe has been violin and viola professor for twenty years (2002-2022) at the Municipal Conservatory of Argos. Since 2002, he is violin and viola professor at the Corfu Ionian Conservatory. In 2013 he taught violin at the School of Arts-Music of the University of Surrey in England. Since 2015 he is teaching violin and viola at the Filippos Nakas Conservatory and since 2018 at Deree-The American College of Greece. His students have repeatedly been awarded at competitions in Greece.