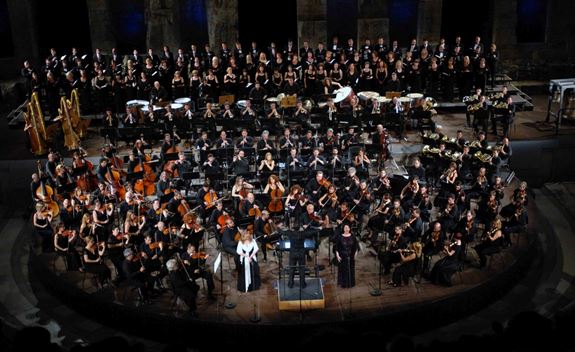 Concert at the Athens Festival
The concert has been canceled.
In this, the bicentenary of the birth of Giuseppe Verdi, the great Italian composer's vast and superb operatic oeuvre is being honoured all over the world with the splendour it deserves. The Athens State Orchestra will play its part in the celebrations by performing the celebrated and emotionally-laden Requiem which Verdi wrote in memory of the eminent Italian man of letters, Alessandro Manzoni. Part of this year's Athens Festival, the performance, for which the Orchestra will be joined by distinguished singers and no fewer than three choruses, will be conducted by Vassilis Christopoulos.
Fri., 14 Jun. 2013 21:00
Odeon of Herodes Atticus
GIUSEPPE VERDI
(1813-1901)
Messa da Requiem (in memoriam of Alessandro Manzoni)
SOLOIST
Cellia Costea, soprano
Geraldine Chauvet, mezzo soprano
Steve Davislim, tenor
Yuri Vorobiev, bass
CONDUCTOR
Vassilis Christopoulos
PARTICIPATION
Sofia Metropolitan Choir
Greek Radio Choir
The Athens Mixed Municipal Choir
TICKETS INFORMATION
Lower tier: 30€
Upper tier: 15€
Students: 10€
Unemployed: 5€
People with Movement Difficulties: 5€