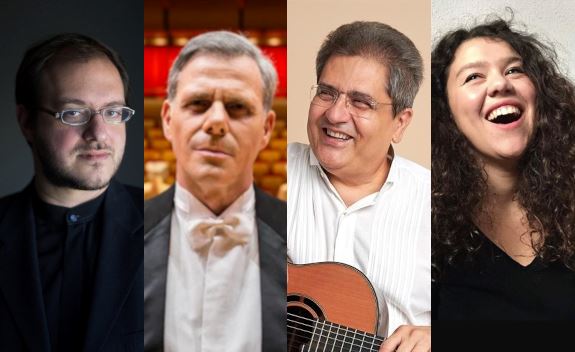 100th anniversary of Iannis Xenakis' birth
The creative work of Iannis Xenakis left an indelible mark on the musical avant-garde of the latter half of the 20th century. One hundred years after his birth, the dynamic maestro Nikos Vasiliou honours the memory of the composer who transubstantiated his mathematical and architectural knowledge into truly novel, imaginative music. The concert presents two well-known symphonic works by Xenakis along with the Oiseaux exotiques by his mentor in Paris, Olivier Messiaen, and a work by the French avant-garde composer, Edgard Varèse. The guitarist Costas Cotsiolis brings the concert to a close with the sensual concerto by his great fellow guitarist, Leo Brouwer.
Fri., 9 Dec. 2022 20:30
Megaron – The Athens Concert Hall
Christos Lambrakis Hall
IANNIS XENAKIS
(1922-2001)
Hiketides, Les Suppliantes d'Eschyle for brass quartet and strings
EDGARD VARESE
(1883-1965)
Offrandes for soprano and chamber orchestra
OLIVIER MESSIAEN
(1908–1992)
Oiseaux exotiques, for piano and small orchestra
IANNIS XENAKIS
(1922-2001)
Metastaseis
LEO BROUWER
(b. 1939)
Concierto de Volos for guitar and orchestra
SOLOIST
Mia Mantino, soprano
Titos Gouvelis, piano
Kostas Kotsiolis, guitar
CONDUCTOR
Nikos Vasileiou
Athanassios Fokas, Dr and Academician, will present the link between Xenakis' work and mathematics.
TICKETS INFORMATION
Ticket price: 25€, 20€, 15€ and 8€ (concessions)
Advance ticket sale starts on Friday 15 July 2022