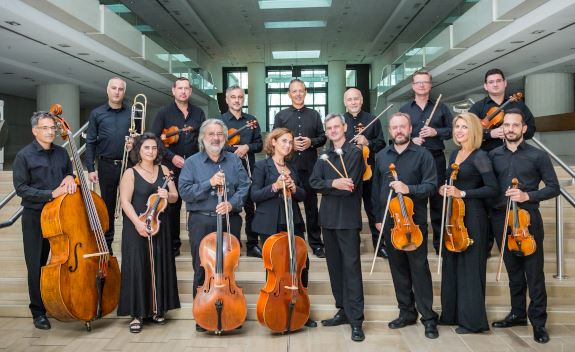 Festival «MusiKos», concert of small orchestra in Kos
Concerts and actions in the South Aegean: Rhodes, Kos, Nisyros, Chalki, Karpathos, Kasos
Co-production with the South Aegean Region, with the participation of the Municipalities of Rhodes, Kos, Karpathos, Kasos, Nisyros and Chalki
The Athens State Orchestra is staging its sixth "MusiKoS" Festival, in collaboration with "Next Day", the not-for-profit International Intervention for Sustainable Development and Quality of Life, and "P-art of the solution".
The Festival has been created in order to provide high-quality artistic events, to promote wide-ranging collaborations between local authorities and musical and educational institutions, to aid development in the Greek provinces, to reach out to socially sensitive groups, and to make culture available to society as a whole. In all, 9 concerts will take place this year, all with free admission for the public. There will be two concerts on Kos and three on Rhodes, with the rest taking place on the islands of Karpathos, Kasos, Nisyros and Halki. Educational activities will be held in parallel for school children on the islands. The repertoire performed is extremely wide-ranging, extending from classical music to operetta and film music, and will be performed by prominent ensembles of the Athens State Orchestra.
The Festival could not have happened without the full support and patronage of the Hellenic Ministry of Culture and Sports, the General Secretariat of the Aegean and Island Policy, the South Aegean Region, the Greek National Tourism Organization, the Dodecanese Chamber of Commerce, the Municipal Organization for Culture and Sports of Rhodes, the Municipality Organization for Culture, Sports and Crèches of Kos, the Municipality of Nisyros, the Municipality of Halki, the Municipal Organization for Culture, Sports and Education of Karpathos, and the Public Benefit Enterprise of the Municipality of Kasos. We would also like to thank VAKOUF, Kos, for its help.
Our especial thanks, too, to the Ephorate of Antiquities of the Dodecanese for its cooperation, which was excellent as always.
Wed., 21 Sep. 2022 20:30
Roman Odeon of Kos
P. Foundas: Suite
Karaev: 3 Miniatures
Vivaldi: Four Seasons
CONDUCTOR
Nikolaos Haliassas
PARTICIPATION
String Orchestra
Özgecan Günöz, violin
TICKETS INFORMATION
Free entrance