< Back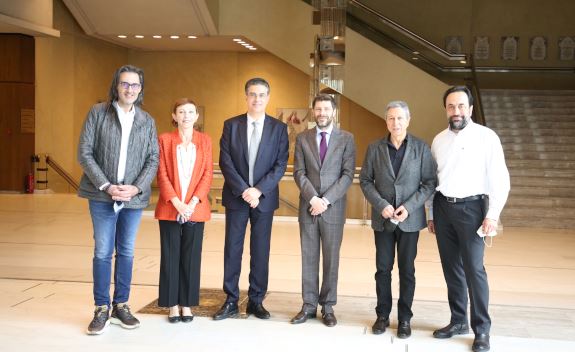 Press Conference, 18th April 2022
Monday, 18 April 2022
The latest collaboration between the Athens State Orchestra and the leading violinist and conductor Leonidas Kavakos was announced on Monday 18 April in the foyer of the Christos Lambrakis Hall in the presence of the Deputy Minister for Contemporary Culture, Nicholas Yatromanolakis, the Representative of the UN High Commissioner for Refugees in Greece, Maria Clara Martin, and Leonidas Kavakos. The proceeds from the concert, which is due to take place on June 4 at the Athens Megaron Concert Hall and which opens a new chapter in the Orchestra's educational, social and charitable work, will be made available for Child Refugees from Ukraine, many of whom are unaccompanied.
The event was coordinated by the Artistic Director of the Athens State Orchestra, Loukas Karytinos. Also present were the President of the Board of Directors, Professor Linos-Alexandre Sicilianos, and the President of the Association of Athens State Orchestra Musicians, Michalis Ramos, who took the floor after the opening address by Mr Yatromanolakis and Ms Martin. He was followed by Mr Kavakos, who also said a few words.
The concert programme, which was decided on at a meeting between Leonidas Kavakos and the musicians of the Athens State Orchestra, will be celebratory and participatory in nature. Its centre piece will be Brahms' iconic Fourth Symphony.
Holding this new concert within the 2021-2022 artistic period of Megaron - the Athens Concert Hall, has been achieved thanks to the unreserved help of the President of Megaron's Organization, Mr Nikos E. Pimblis. We heartily thank Mr Pimblis for his support.