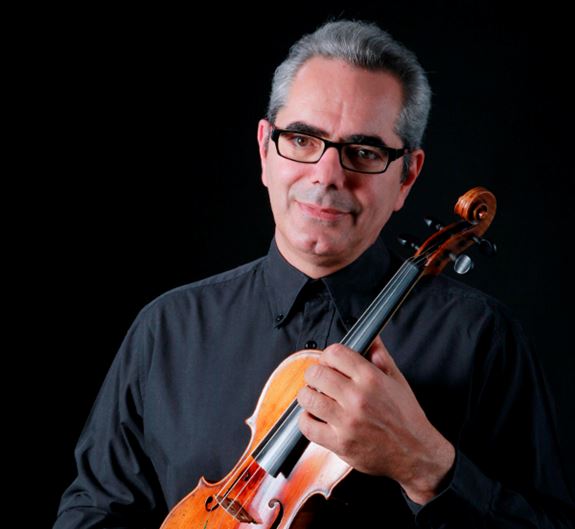 Dimitris Semsis
Born in Munich in 1959, he is descended from a family whose musical roots can be traced to the beginning of the 19th century. Initially instructed by his father, Michalis Semsis, he later continued his violin studies with Tibor Varga and Otto Büchner at the Academies of Detmold and Munich, as well as with Alexander Pavlovich at the Academy of Belgrade. He holds diplomas from the "Athineon" Conservatory of Athens and the Royal College of Music, London.
For two years, he was a member of the renowned Munich Bach Orchestra, working under the baton of Carl Richter. For a decade he was concertmaster of the chamber orchestra 'Camerata Hellenica', which was founded by his father. He subsequently became concertmaster of the 'Camerata - Friends of Music Society Orchestra', which he co-founded and worked for until June 1997. As a soloist, he has collaborated with both symphonic and chamber music orchestras and appeared in multiple countries, including Greece, France, Switzerland, Italy, Ukraine, Serbia, the United Kingdom, Germany, Austria, Bulgaria, Turkey, the US, Romania and Belgium. Moreover, he is a founding member of the piano trio 'Opus I', with which he has presented numerous programmes in Athens and other Greek cities.
From January 1999, he was concertmaster of the National Radio Orchestra. He remained in that position until October 2003, at which point he assumed the same position at the Athens State Orchestra.
He has participated in educational programmes for youths and children, both at Megaron - The Athens Music Hall and in various places across Greece. Moreover, he has participated in open lessons whose purpose was to introduce and familiarise young people with music. In 2011, he became artistic director and conductor of the 'Friends of Music Society Youth Orchestra'. The orchestra has performed at Megaron - The Athens Music Hall, and the Music Hall of Thessaloniki, as well as participated in numerous festivals and educational programmes in multiple major Greek cities. He held this position until 2018, when he became the orchestra's honorary conductor. He currently teaches the violin at the Orfeio Conservatory of Athens.
Dimitris plays on a Lorenzo Storioni violin that was made in Cremona in 1794.