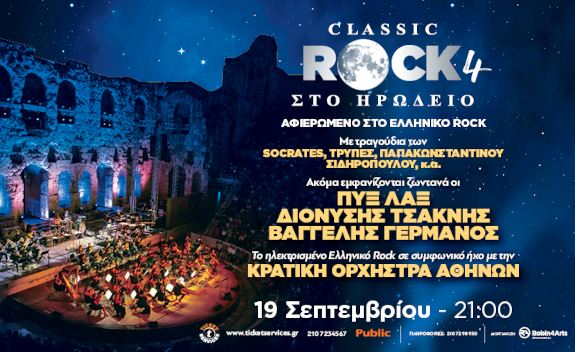 Classic Rock 4!
The electric Greek Rock, for the first time in its history, in symphonic sound
The Classic Rock, the project that linked Rock with symphonic sound, returns for the fourth year in a row and is dedicated to the Greek Rock stage, that will be heard for the first time in its symphonic dimension.
The authentic voices of Pyx Lax, Dionyssis Tsaknis Vaggelis Germanos, with the power of the Athens State Orchestra, will interpret their big hits in a way that you have never heard before.
Sat., 19 Sep. 2020 21:00
Odeon of Herodes Atticus
Production: Robin4Arts GmbH
TICKETS INFORMATION
Lower tier:
VIP 73€
Zone A: 63€
Zone B: 53€ 
Zone C: 43€
Upper tier (all seats are numbered) :
Zone D: 37€ Ε
Zone E: 32€
Zone F: 27€
Students, unemployed: 25€, in Zone F and in limited number of seats