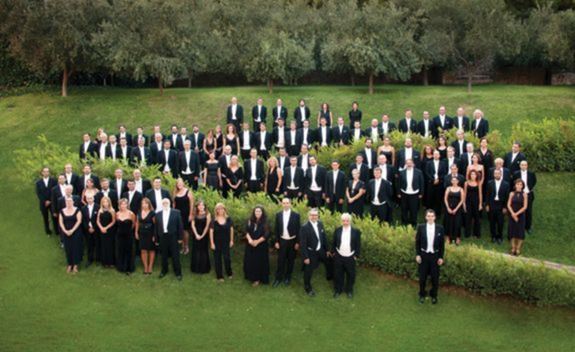 70 years of the Athens State Orchestra: a celebratory concert
The Athens State Orchestra gave its historic first concert on 28 February 1943 at the Olympia theatre, performing works by leading Greek composers of the time. Seventy years later, the Orchestra is still hard at work offering audiences in Athens and beyond masterpieces from the international symphonic repertoire.
Remaining true to the spirit of that inaugural concert, we have chosen to celebrate our seventieth anniversary with four Greek works: the ritualistic Phoenix Music by the great innovator, Jani Christou, Pyrrichios by the talented Christos Papageorgiou, Six Greek Dances by the great Nikos Skalkottas, and the world premiere of a new work by a leading Greek composer of today, Thodoros Antoniou.
The concert will also pay tribute to the heart and soul of the Athens State Orchestra, our musicians, three of whom will be playing solo roles: concertmaster Dimitris Semsis, principal clarinettist Spyros Mourikis and timpanist Spyros Lambouras on percussion. This festive spectacular will be conducted by the artistic director of the Athens State Orchestra, Vassilis Christopoulos.
Fri., 1 Mar. 2013 20:30
Megaron – The Athens Concert Hall
Christos Lambrakis Hall
JANI CHRISTOU
(1926–1970)
Phoenix's Music
MAX BRUCH
(1838–1920)
Adagio appassionato for violin and orchestra in C sharp minor, Op. 57
THEODORE ANTONIOU
(1935)
Just Drumming
(Commissioned by A.S.O.)
CHRISTOS PAPAGEORGIOU
(b. 1967)
Pyrrichios
LUIGI BASSI
(1833-1871)
Fantaisie brillante for clarinet and orchestra based on themes from Verdi's Rigoletto
(Orchestration: Yiannis Samprovalakis)
NIKOS SKALKOTTAS
(1904–1949)
Six Greek Dances
SOLOIST
Spyros Mourikis, clarinet
Spyros Lampouras, percussion
Dimitris Semsis, violin
CONDUCTOR
Vassilis Christopoulos
19:45
Pre-concert talk, free for ticket holders