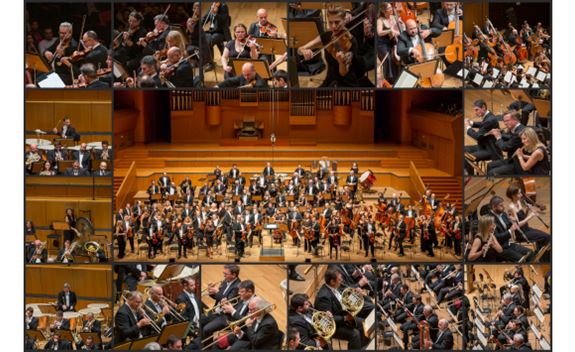 Concert for the anniversary of 200 years since the Greek Revolution
The concert is broadcast on the Athens State Orchestra's Facebook profile and on YouTube channel.
We honour the anniversary of the National Day on 28 October, presenting the programme we had prepared for the concert on 25 March for the great anniversary of 200 years after the beginning of the Revolution for Freedom. A concert that, unfortunately, has been postponed due to a Covid-19 affection. The programme starts with the Dance of `21, an order of the Athens State Orchestra to the internationally acknowledged Greek composer and conductor Konstantia Gourzi. Ector Berlioz's Heroic Scene follows, depicting Europe's admiration towards the heroic struggle of Greek people. The concert peaks with the highly symbolic Symphony No. 1 in C major, known as Symphony of Valiance, composed by the father of the National Music School, Manolis Kalomoiris. The strong and heroic symphony, heritage of the composer to the Athens State Orchestra, as he noted, expresses the need to «depict with music the emotion I felt witnessing all expressions of the Greek Valiance : facing joy, dance, love, war, death». Tasos Apostolou and Petros Magoulas participate as soloists while Stefanos Tsialis is the conductor of the programme.
Thu., 28 Oct. 2021
Megaron – The Athens Concert Hall
Christos Lambrakis Hall
KONSTANTIA GOURZI
(1962)
The dance of 21, order of the Athens State Orchestra for the 200th anniversary of the Greek Revolution
HECTOR BERLIOZ
(1803–1869)
The Greek Revolution, heroic scene
MANOLIS KALOMIRIS
(1883–1962)
Symphony no. 1 for choir and orchestra, 'Leventia Symphony' in C Minor
SOLOIST
Tasos Apostolou, bass
Petros Magoulas, bass
CONDUCTOR
Stefanos Tsialis
PARTICIPATION
Greek Radio Choir
Conductor: Mihalis Patseas
City of Athens Choir
Conductor: Stavros Beris